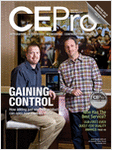 CE Pro (Custom Electronics Professionals) magazine is the key resource for custom electronics professionals.
It helps dealers and installers stay current on products, understand technology and run profitable businesses. Each issue contains articles to help your business grow, adding insight to home networking, whole-house automation, digital media, distributed audio and video, home theater, lighting control, structured wiring, energy management and security.
Get your free subscription to CE Pro today!
Lockergnome has joined forces with TradePub.com to offer you a new, exciting, and entirely free professional resource. Visit us today to browse our selection of complimentary IT-related magazines, white papers, webinars, podcasts, and more across 34 industry sectors. No credit cards, coupons, or promo codes required. Try it today!