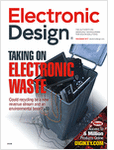 Electronic Design's ongoing objective is to observe and report the latest breakthroughs in EOEM technology.
By providing this information, Electronic Design has been the strategic partner of system designers and suppliers for the past 50 years, helping to bring them together so that they can deliver more competitive products to market faster.
Get your free subscription to Electronic Design today!
Lockergnome has joined forces with TradePub.com to offer you a new, exciting, and entirely free professional resource. Visit us today to browse our selection of complimentary IT-related magazines, white papers, webinars, podcasts, and more across 34 industry sectors. No credit cards, coupons, or promo codes required. Try it today!